AGA Range Oven Spares Cornwall
If you reside in Cornwall, then Reconditioned Ranges are proud to be your local AGA range cooker specialists. We specialise in refurbished ranges and range oven spares delivered throughout the UK.
We are a family-run business who embrace our work with passion and meticulous care. We understand that your AGA cooker is more than just a cooking appliance and deserves to be treated with respect.
Because of their superior build quality, many AGA cooker and ovens installed in homes are refurbished models which have stood the test of time. A reconditioned AGA unit is absolutely capable of producing the same quality service as a brands new model whilst guaranteeing large savings. At Reconditioned Ranges, we are proud to be stockist of a comprehensive range of AGA cooker and oven spares. Our showroom and workshop is one of the largest in the UK. All our stock are genuine AGA parts recovered and restored carefully by our experienced engineers.
AGA Range Cooker Spares
Are you looking for AGA range cooker spares? We can help. Our workshop, based in Redruth, is fully equipped with the necessary equipment and parts to repair, service and restore AGA range cookers. We are specialists in breaking and restoring second-hand cookers. Because of the sturdy design, many AGAs can provide years of reliable service, and when reaching the end of their working life, provide replacement parts for the repair of other AGA cookers.
If you love country style ovens, then AGA range cookers are the perfect choice for you. We are happy to take your old cooker and part exchange the value if you choose to purchase a reconditioned cooker from us. We will assess the condition of your old cooker in our workshop. If it's in a good condition, we will strip the cooker down to its body. The cast iron body will be sandblasted and inspected for any cracks and repaired accordingly. We assess the condition of the moving parts such as oven door and hot plate lids. If needs be, they will only be replaced by genuine AGA replacement parts which we have salvaged from other cookers and restored.
Refurbished Rayburns

Have you considered buying Refurbished Rayburns? You could save a lot of money buying a refurbished oven compared to a new one.
Rayburn is another leading British manufacturer of range cookers. Founded in the 40s, the first Rayburn model only ran on solid fuel and only available on the original cream beige colour. With the advance of technology saw the development of alternative fuel options and larger models, allowing precise control of cooking temperatures and a variety of enamel colours. Ranging from bold postbox red to subtle muted tones, there is sure to be one perfect for your home.
In our showroom we also an extensive range of Rayburn stove parts which we can supply with UK-wide delivery. If you are within Cornwall or Devon, we also offer free fitting and installation of any parts if required. We specialise in repairing these traditional cookers. Our work is carried out to the highest standard possible. You can trust our experienced engineers to handle your cooker with due care and attention, working efficiently to cause minimal disruption to your house or property. We will leave the property clean and tidy.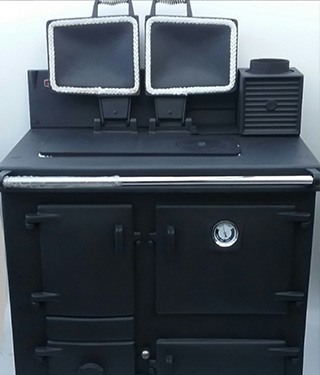 Reconditioned AGAs
Reconditioned Ranges sell Reconditioned AGAs throughout the UK. We are experienced range cooker repair engineers servicing across Cornwall and Devon. In the case of an emergency, we aim to be on site within 24 hours. We understand that a malfunctioning range cooker not only means you lose the capability of cooking, but also the warmth it brings to the entire room and throughout the house- especially devastating in the winter seasons if your cooker also supports the domestic hot water system.
We will bring all the necessary equipment with every visit and aim to diagnose and resolve the fault in a single visit. Because of our experience and knowledge, we can sometimes perform diagnosis over the phone with the information given. This helps us in improving the efficiency of the our work and minimise the disruption to you daily schedule. We stock a large range of genuine spare parts for many manufacturers and models, chances are if you need a part, we will have it. Our parts are available for UK-wide delivery.
AGA Stove Spares Online
Are you looking for Rayburn or AGA stove spares online ? We sell and deliver spare parts for traditional cookers and range ovens throughout the UK. From spare oven doors to a small hinge or fixing, you are sure to find the part you're looking for from our extensive range. All of our parts are genuine manufacturer brands, either recovered from restoration projects or sourced from the manufacturers. If you are unsure whether a part will fit your model of range cooker, our experienced engineers will be more than happy to offer advice.
We can offer reconditioned range spare parts as part of a service or repairs, or they can be supplied on their own with fast UK delivery. If you purchase a reconditioned range from our showroom, it will have been meticulously restored with genuine manufacturer parts. Our refurbished ranges offer excellent value for money as they offer the same functionality as brand-new one, yet offering up to 75% in savings.
AGA Spares
Rayburn Spares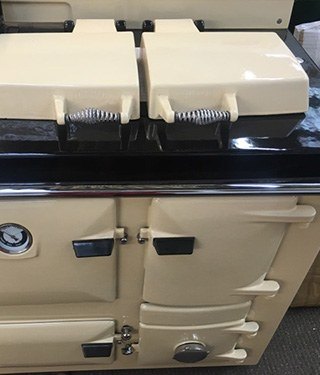 Servicing AGA and Rayburn Ovens Falmouth
Reconditioned Ranges also offer Range cooker servicing in Falmouth and Cornwall. We are the leading company for servicing AGA and Rayburn ovens. From our central location in Falmouth, we are able to offer our comprehensive servicing and maintenance packages across the county of Cornwall. AGA, Rayburn and other range cookers are renowned for their durability. With regular maintenance and servicing, an AGA cooker can offer generations of reliable service. Many of the original range of Rayburn cookers are still functioning perfectly, withstanding the test of time.
We can schedule our visit at a time to suit you. We will carefully inspect the interior mechanisms and exterior enamel for cracks and damages. All the seals and hinges are checked for their functionality. If any repairs are required, depending on the level of repairs we may be able to carry out the work without removing the cooker from your home.
Please ensure that the AGA oven is switched off the night before the scheduled visit. We cannot thoroughly inspect a cooker if the interior is still hot.
Solid fuel and Oil AGA Spares
Traditionally, AGA range cookers has only been available in solid fuel such as coal and wood, Over the years, alternative fuel options such as electric and gas have greatly improved the compatibility of AGA cookers and modern homes. Solid fuel cookers require a fully lined chimney to ventilate the smoke, which isn't always an option in modern dwellings. Some AGA models are dual fuelled, supporting gas and solid fuel options.
Rayburn Spares
AGA Spares Online
Dual Fuel Oven Spares
Solid Fuel AGA Spares
Oil AGA Spares
AGA Six Four Spare Parts
Electric AGAs are one of the most popular fuel choices in AGA range cookers because of their convenience. They are suitable for modern homes which doesn't have a functioning chimney flue and doesn't wish to install one. We stock an array of electric AGA spares for a variety of models. If you live with in the Cornwall or Devon area, we can additionally install the part for you if required. Alternatively, our electric AGA parts are available for fast UK-wide shipping. If you are unsure which parts will be compatible with your cooker, feel free to call us on 01209 214774 and speak to one of our specialist engineers.
Reconditioned Ranges
Scorrier Road
Scorrier
Redruth
Falmouth
Cornwall
TR16 5AA